As we bid adieu to 2015 and welcome 2016 with open arms, the one spot I'd love to be on New Year's Eve is on a rooftop of basically anywhere.
Why? In case you didn't know, I'm an absolute sucker for fireworks. 😀
So this year, I found myself atop View Rooftop Bar at GTower Hotel in Ampang Park for the countdown to the new year with moo and two of our closest friends, Bilal & Nickee.
But first! Before the night began, New Year's Eve started in the mid morning with a homemade brunch at the comfort of our home.
Some of our favorite homecooked breakfast essentials.
Buttered toast, scrambled eggs, mushrooms and of course, strawberry milkshake!
After chomping down breakfast, Moo and I practically did nothing all day except rest, basking in each other's company and binge on TV series. Take it as some sort of a recharge for the impending hectic night out to come. Heh. Heh. 😛
But before we get too comfy (or lazy!) at home, we adjourned for dinner at TGI Fridays, Wangsa Walk mall.
Looks like it was a sweater kind of day for us,
when we both happened to be wearing sweaters that night.
So… what's for dinner? 
We indulged in Fish & Chips (for me), and a Beef Bacon Cheeseburger (for him).
Not forgetting both our favorites – Chocolate Silk Shake & Fried Mac n' Cheese for sharing, before zooming off to our New Year's countdown party. *burp*
Arriving at a little after 9pm, Bilal and Nickee were already there at GTower's hotel lobby waiting for us 🙂
Without further ado, it's up up up we go! Somewhat a little thankful that the queue wasn't unbearable, despite not booking or planning our night in advance. Guess we got lucky!
With moo, Nickee & Bilal at The View Rooftop Bar!
Is this our first double date in 2016? Oh yes, it is 😘
Read on to find out how the party went!
Nickee & I had some selfie time while our boys were busy jumping to the beat!
Never trust a busy waiter to take a good, clear photo.
I had lots of fun at the party, but the tracks played throughout the 2.5 hours before midnight struck wasn't exactly my cup of tea.
It was a medley of old skool tunes ranging from RnB, Mainstream Top-40 Pop & Hip Hop. And we all know that's definitely not my jam. Neither was it Moo's. But that doesn't really matter, especially if we're with great company! 😀
Thanks for making the night fun, guys!
Fooling around on camera!
It's the people whom we're celebrating with, that matters most.
I wouldn't have wanted the night to turn out any other way 🙂 
The four of us!
One hour to go before 2016! Time to crank up the party gear.
We waited for the fireworks to burst into the open of the still night sky.
And then the magic that was 2016, happened.
We didn't have to look any further,
as View Rooftop Bar had their very own stunning show of fireworks!
ONE successful shot out of several failed selfies with the fireworks! Yaayyyy!
It went on for about a good 5-10 minutes.
Since my firework photos doesn't seem to do the night justice, 
here's a spectacular video I found of fireworks. Wish I could that, but I'd need a droid first. 😛
When we got back to our table, we got acquainted with some new friends and partygoers from Finland and Germany!
They were def a wacky bunch!
Nils & Katerina were such nice people too!
After the night ended at View Rooftop Bar, we adjourned to Zion Club KL, in Changkat Bukit Bintang.
Thank you, KS, for bringing us upstairs to check out Phabric!
Keep it up! 🙂 This Penang girl is proud of ya.
The night was a rather heavy one, rendering us incapable of motion and speech the very next morning. Haha. I'm exaggerating, but yeah, we sure felt like zombies from the walking dead.
The only time we dragged ourselves out of bed was to head to the kitchen to whip up a quick hot meal (thanks for brunch, love!) and fell fast asleep again till late afternoon.
Never mind the non-eventful day. 
The very next day, we did something more interesting.
Cooked up a storm and made spaghetti, according to his mom's recipe! 
Yup, we were lucky that she was just one international phone call away, just as we were picking out the ingredients at Jaya Grocer, Verve® Shops in Mont Kiara.
After a hearty dinner (high-five!),
off we went to TGV Cinemas to catch Star Wars VII: The Force Awakens.
I've never been a diehard fan of Star Wars in general, the first and only episode I've ever watched was in the cinemas with my family when I was ten. It was The Phantom Menace. And that was it.
I loved loved loved loved the movie.
Not going to spoil the movie for you, so I shall stop here.
But watching the latest episode yesterday made me download the original & sequel trilogies to binge watch aka marathon all over again! 😀 😀
Oh! Before I forget, one of the highlights of the day was the fact that somebody joined me on the Light side of the Force!
Welcoming another member of the Vape community!
Now we have two Joyetech eVic-VTC Mini mods 😀 One in turquoise and one in black. 
Thanks VapeBoss, Solaris & Vape Empire/Vape Tech, Hartamas!

This 2016, which side are you on?  
For those of you who smoke, why don't you try to quit smoking again, guys? 😀
Last year, I didn't make New Year Resolutions because I was of the opinion that I didn't need a new year to resolve to be a better version of myself or to do something different. Change doesn't need a new year to kick it off; change should come from within.
The change starts in you and only you can change whenever you are ready to be a better version of yourself.
This year, I am not of a different opinion but I chanced upon a really interesting quote which made me question my stand as of last year.
So looks like we'll never ever be entirely ready, huh?
Looks like I'll be making my resolutions this 2016 then. At least it can serve as a guideline for the year. *shrugs*
And so my New Year Resolutions are:
1. Quit smoking
Because clearly my lungs aren't made of titanium.
2. Quit reckless & excessive partying
Because it ain't doing me any good. Fun it may be, but damaging too.
3. Be closer to God and my newfound path
Because, just because 🙂 This is for another blog post to come.
4. Lose at least 5% of body fat by mid 2016
Because I've been skipping the gym, my abs cry for existence once more.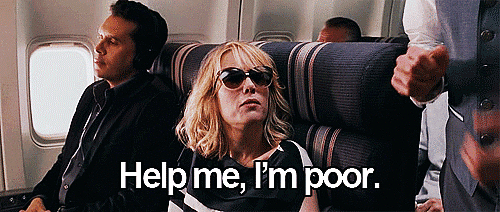 5. Save at least 10 grand by end 2016
Because I'm getting a condominium unit to settle down in! 🙂
6. Read 1 novel every 2 months.
Because I've got piles from my Big Bad Wolf  haul staring at me every day!
Here's to hoping I stick to my new year resolutions!
I pray for another blessed, successful & happy year ahead… and this year, I know and trust that all will be right for me. Ameen!
They say behind every successful man there is a woman.
I say behind every successful woman, is a man that will always have her back too!
Thank you for another wonderful year, my Knight in Shining Armour.
Have a brilliant 2016, dear readers!