If you missed our favourite American pop-rockers in 2010, don't fret, they will be making a stellar return to Malaysia!
This year's The Return of Paramore Live in Kuala Lumpur marks one of the stops on their worldwide tour held in conjunction with the release of their latest, self-titled album.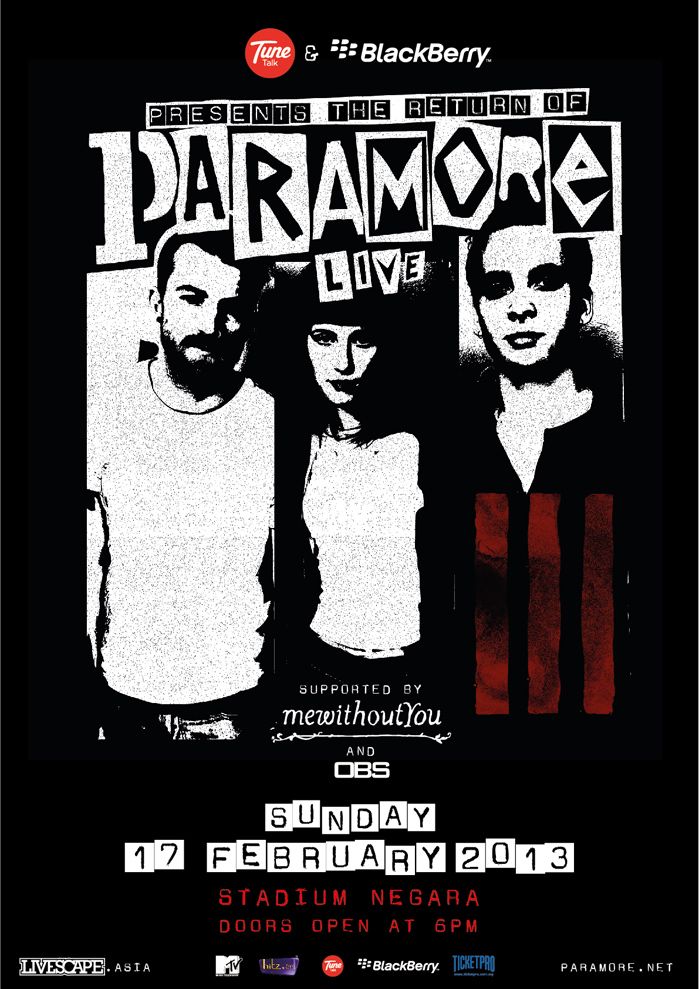 Joining Paramore on stage will be American experimental indie rockers mewithoutyou
and local punk rock pioneers One Buck Short the opening acts
The peeps at Livescape Asia really know how to carve a smile on the faces of partygoers and rockers alike, don't they?
You guys are amazing! Keep up the great job in bringing the world's best acts right here to our local soil!
Rahul of Livescape Asia and I
I attended their press conference held in Bangsar just the other day.
We heard a short teaser of 'Now', which is Paramore's latest single that is only scheduled to be released in April!
The boys behind this much-anticipated event. Livescape Asia,, Blackberry and Tune Talk represent!
We were also told that there will be approximately 30 Meet & Greet passes to be won via the social media pages of Blackberry Malaysia and Tune Talk, so make sure you follow them online closely!
Here's the recap:
WHAT The Return of Paramore Live in Kuala Lumpur
WHERE Stadium Negara, KL
WHEN 17th Febuary 2013 (Sunday) 7PM
HOW MUCH
RM270 (RED ZONE)
RM200 (ROCK ZONE)
RM150 (P1)
RM130 (P2)
RM110 (P3)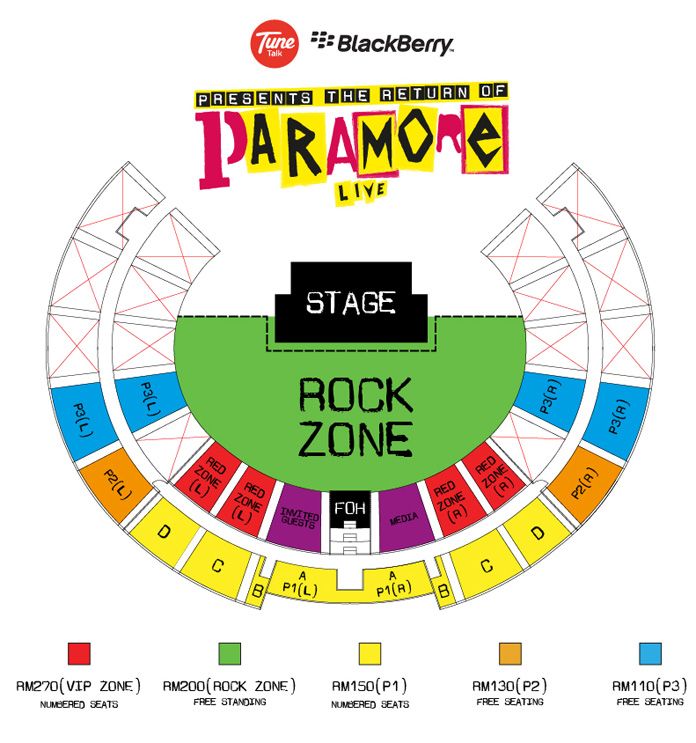 For your ticket planning purposes, here is the stage plan of the night
For more information on ticketing : www.ticketpro.com.my
Here are some photos I shot of Paramore's debut performance in Malaysia back in 2010.
Enjoy!

The photos speak from themselves, don't they?
I can remember that crazy, emotionally-driven and head-banging night that Paramore delivered to us.
And come this 17th February 2013, it will be ROUND TWO! Bring it on!
For those of you who missed it in 2010, don't miss it again! Mark your calenders this February 2013.
Can't wait to catch Paramore LIVE in Malaysia again!
It's going to be even better than 2010's gig, I bet!
See you there, fellow punk rockers!