Funny how I kept hearing Chinese New Year songs even waaaay before the year 2009 was over. I guess the Chinese folks are pretty enthusiastic about the year of the Tiger!
Anyways, the 1st and earliest Chinese New Year event which I was invited for as a start to 2010 was the Tiger Beer's Year of the Tiger. Like most events, I had my signature on the photowall. But this one was slightly different
It required all the guests to sign their New Years' Winning Wishes
As I've tweeted a picture before
[here]
I considered my 'winning wishes' a tad too general 🙂 Well after all, it IS for public display.
But I spotted some really hilarious ones like 'Pretty girls on my bed tonight' and heck, check out the rest yourselves!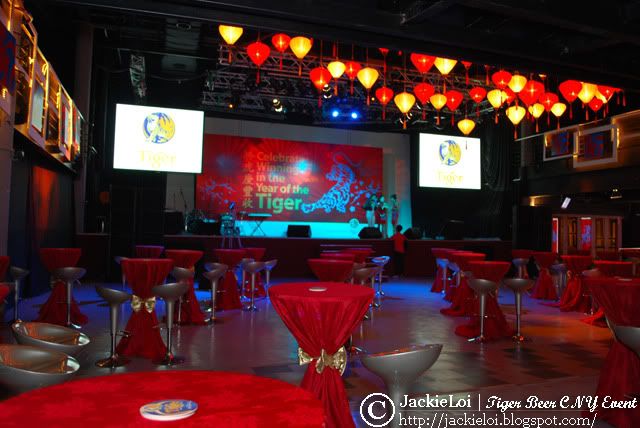 Quite empty as we were early!
The bare wall
And soon, more and more people began to fill the place and crowd the photowall!
(FYI group photos & pics of me are credited to jackie , joshua & wilson)
We were all served free-flow of ice-cold Tiger Beer throughout the night. They were all so generous! Even when we were full to the brim, the Tigers won't stop coming
🙂
…as in, the beer bottles
It was very novel as it was the 1st time I've seen a Tiger Dance instead of the usual year-in-year out of a Lion Dance. Tecnically it's the same routine, but well, they were ingenious enough to replace it with a tiger head.
The audio went a lil wonky but at least you can still see it 🙂
Awww how cute. I remember as a child of 6, I used to pat/stroke the Lion and told mom I wanted to keep it as a pet. Delusional childhood, I know.
More food was served during the Tiger video presentation. I loved it! It showed us a brief history of how Tiger beer was first brewed and then imported all around the world, it's gradual branding changes, it's achievements to what it is today
Congrats!
Moving on to the food,
I was amused how everything was served in miniature bite sizes. So tiny and adorable.
There was pasta, fish fillets, prawns, chicken & capsicums and that's as far as my memory can take me.
Pasta in a mini glass!
We all had quite a bit 🙂
Yummy, no doubt
We had a
Feng Shui Master Joey Yap in the house as well
. He gave a talk on which directional guidelines to use in our houses this year of the Tiger as well as how to identify facial features which indicates luck, prosperity and whatnot.
As usual, I had fun chatting, eating and drinking with some pals
And before we knew it, it was time for games.
I was asked to join as well, but considering the fact that I know nuts about the Chinese culture nor have the ability to name all the animals in the Chinese zodiac cycle and what-year-is-for-which-animal, I decided not to make a monkey outta myself on stage.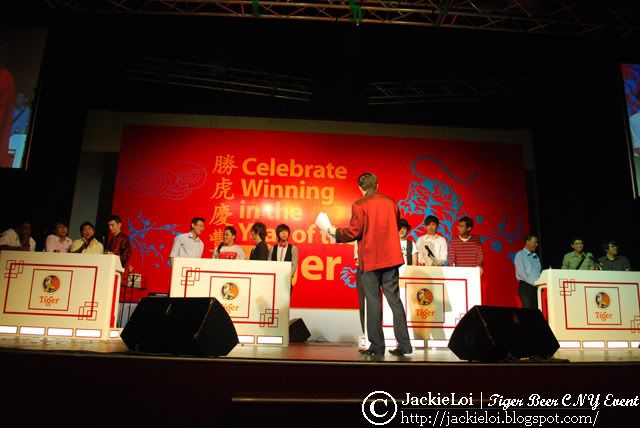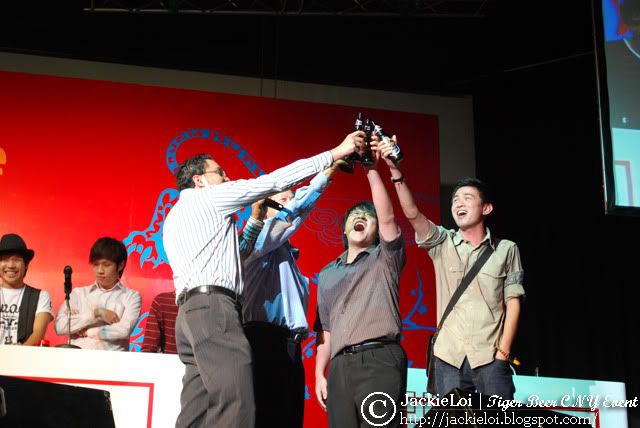 Group 4
In the end, Group 2 won the grand prize. They beatboxed really well. Can't exactly remember what it is, but it sure is gooooooood stuff.
But the rest of them took home lotsa beer crates too! Gonna throw our very own Tiger Beer housepartay yo!
Can't wait 🙂