Wheee! Malaysia made it to the international scene again
After a 5 year break, PROTON returns to the coveted Asia Pacific Rally Championship (APRC) and such efforts were all worth it! They emerged second in the Manufacturer's Championship in its first full season!
Congratulations fellas!
Alister McRae and Chris Atkinson reaffirmed the Malaysian car manufacturer's resolve, determination and competitiveness in the global rallying arena after completing with a one-two finish at the China Rally last weekend
The spirited drive by McRae also earned the Scottish driver third placing in the APRC Driver's Championship – a bigger cause for celebration at the PROTON camp! 😀 😀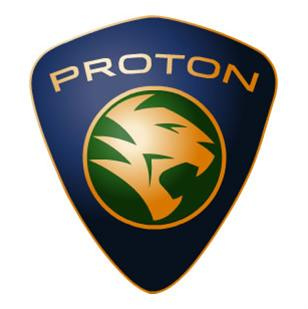 You go guys!! 😀 Woohoo!
This victory reaffirms the Satria Neo S2000 and PROTON's competitiveness as a manufacturer on the international rally arena. Although this year was initially declared as specially devoted to testing and development, they still came in second in the APRC Manufacturer's Championship!
Group Managing Director Dato' Haji Syed Zainal Abidin Syed Mohamed Tahir expresses that
"This is certainly a cause for celebration," 🙂 I cannot agree more!
Although hampered by a series of misfortunes throughout the season, it certainly have proven not to dampen their spirits. Overall,
PROTON had competed in five of the six APRC rounds this year that began with the Rally of Malaysia, Rally of Japan, Rally of New Zealand and Rally of Australia.
Prior to this recent victory in China, PROTON's best result was a second place in the Rally of New Zealand!
Top 3 winners! 😀
In addition to the APRC, the Satria Neo S2000 had also competed in this year's Intercontinental Rally Challenge (IRC) where it went head to head with the likes of lotsa godlike Manufacturer Teams like Peugeot, Skoda, Ford, Abarth Fiat, Honda as well as Mitsubishi and Subaru.
Scary, no? 😀
Tight competition yo!
Dato' Haji Syed Zainal Abidin said motorsports is one of several key strategies being pursued to establish PROTON as a global brand. What a smart way to catch the attention of the international eye, if I do say so myself 🙂
Motorsports has proven to be an ideal and cost-effective platform for the company to generate greater brand awareness in the countries it exports its vehicles to. The world wouldn't know what an awesome and drool worthy car we have if we didn't expose it in the first place, right? 🙂
Equally important, it has also provided PROTON the opportunity to showcase the reliability, strength and performance of the Satria Neo.

In terms of exposure, both the APRC and IRC events command enormous publicity and television viewers worldwide to promote the PROTON brand globally.
To be honest, the Proton Satria Neo was my initial dream for my first car the moment I graduated from high school. But sadly, when I already attained my driver's license and P car sticker, Satria Neo wasn't out yet!! 🙁 🙁 And I couldn't wait so I had to resort to other cars. Bummer!
Guess what? A top Japanese team also shares a similar passion. They are also looking into the possibility of fielding the Satria Neo in next year's Asia Cup category in the APRC.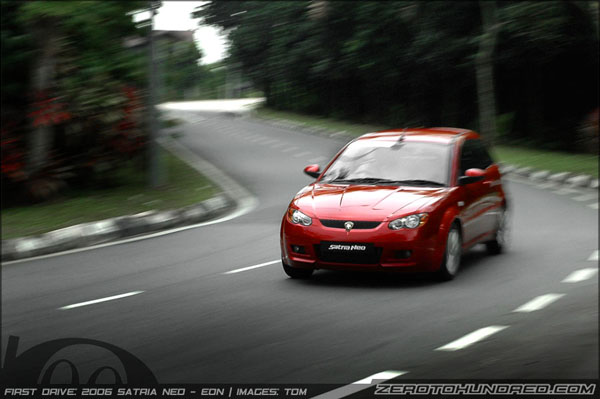 To boast even more for my local-born car, PROTON last competed as a factory-backed team at the 2004 Rally of Canberra in which it finished fifth in the overall classifications and has won the APRC title three times in 2001, 2002 and 2004.
PROTON also won the FIA Production Car World Rally Championship on its debut in 2002
*ethnocentricity kicks in*

The love for local born cars! 😛 😛 😛
In China, the Satria Neo S2000 stamped its competitiveness by being the only Super 2000 rally car to compete against a field largely dominated by the turbocharged Mitsubishi Lancer Evolution and Subaru Impreza rally cars.
To add another feather in their cap, PROTON's success in China was also the debut of four Proton Gen2s that completed the 229.19km rally.
The very sleek Proton Gen 2. Loves!
The cars are known in China as the Europestar, under an OEM collaboration between PROTON and Zhejiang Youngman Passenger Car Group Co. Ltd. I love the name, sounds super-cool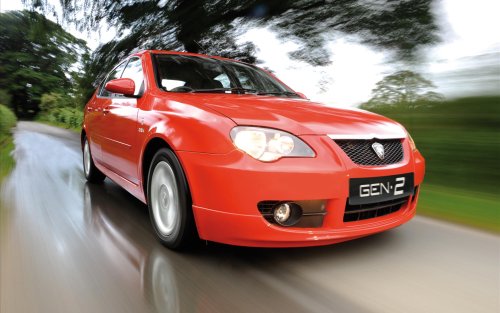 Another shot of the Gen 2 on the road!! 😀
A very durable car built for steady journeys indeed
That being said, congratulations once again Proton! 😀 😀
Make us proud again, ya hear? Hehe
*throws confetti*