Going back to Ipoh for the holidays is something that I've always been looking forward to. Be it hugging my gramps, gramms, godmum and unc Mike tightly or simply just takin a break from the fast & furious life in Penang.
And right now, I'm chilling in imax cyber cafe with the boyfie. meloves ♥
hohoho so chio with the headphones. LOL
It wasn't all the time I return to Ipoh for visiting so we decided to meet up over lunch and some snacks. Gathering with the Ipoh bloggers were fun; small & warm but fun nonetheless.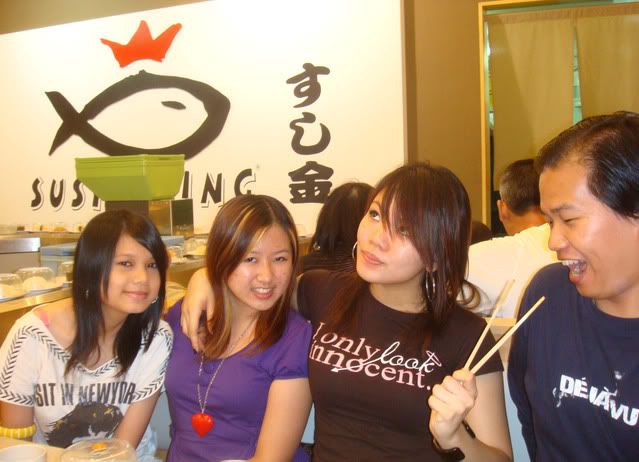 xoxo we finally met up
♥
We met up in Sushi King – with Spectre being VERY LATE. -_-"
ahaha no worries dude, you're talking to a late-ass as well. *cheers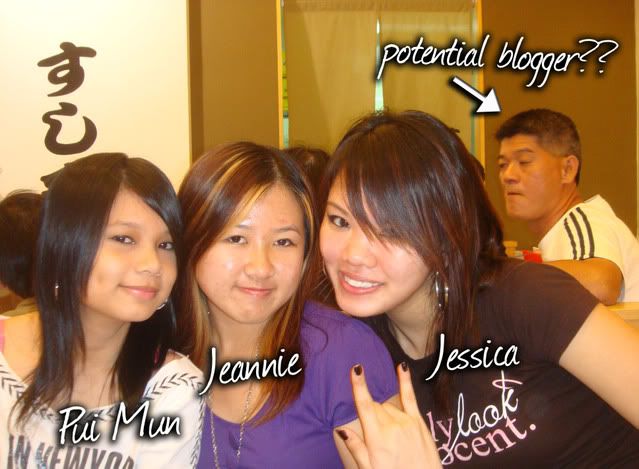 The gurls of the day and.. siapa tu?
Paedophile alert?
HAHAAHHA
We chatted lots about what we liked (and didn't) what we found fabulous (and insanely retarded) who rocked (and who deserved to b turned into one instead) plastic surgery (and photoshop) wmhose fuckin' lame blog makes everybody's computer hang. XD ahahaha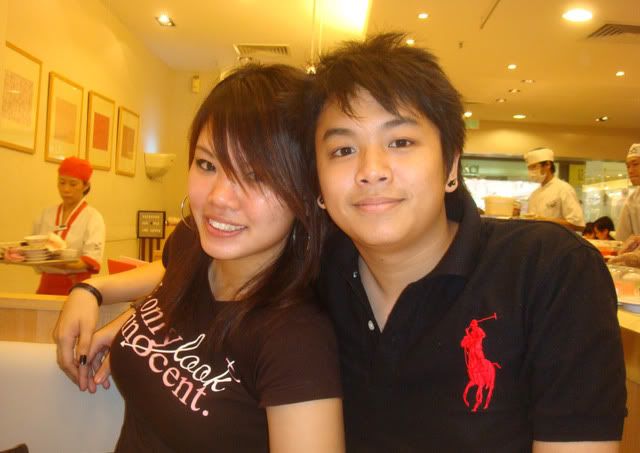 The benjica
(now you guys know where that name came from)

Spectre & I
Hmm… check out the attitude tees on the both of us
LOL

As usual, I had my one and only unagi kabayaki. I tell you, if the world came to an end, I'd stock up on my Unagi and my Green Tea Latte and continue living happily.

HEY, who's lala sign is that on me?
You're gonna D.I.E

How can you not like my Unagi?
=(
Chatted online as one gang in Coffee Bean and spammed HHHEEEEELLLLOOOOOO! Even Fimelime said "Kemeriahan yang melimpah-limpah"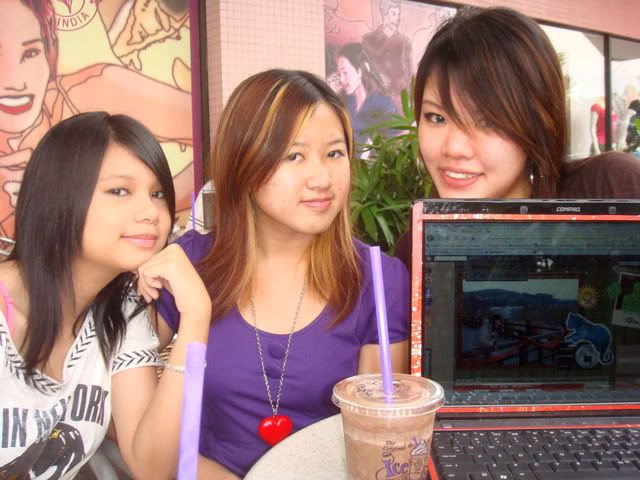 Oh, and speaking of Fimey, she was there virtually with us.
Sorry la, no wax statue. I ho

pe this suffices.
XD
Wheeeee too bad for all the Ipohans who are abroad… *coughs very audibly all the way to be heard from in Osaka, Brisbane and Damansara*
But sadly however fun it was, my moods were slightly dampened as there wasn't any Starbucks for me to "satisfy" my Green Tea Latte "desires" GROSS ROFL

so I resorted to Ice Blended Belgian Chocolate instead. (no match lerr you… go shoot yourself in the straw please and kneel to my Green Tea Latte)

Soon after all the chatting, praising and dissing, we headed to Big Apple Donuts and Coffeefor some pigging out. woots! It just opened in Kinta City!

-You have now entered the drooling zone-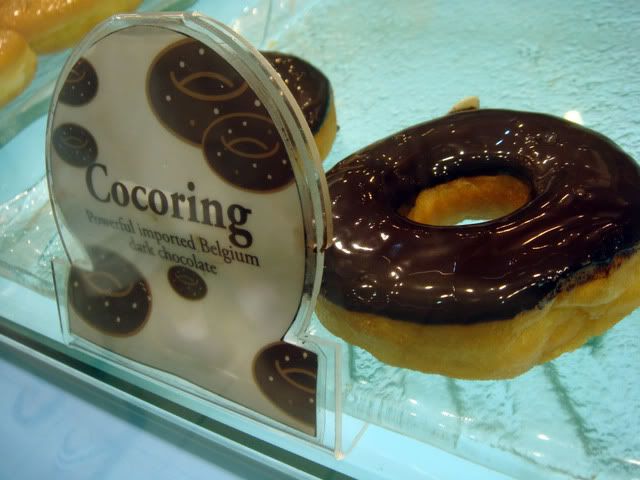 Drool as you may, you are forgiven, my child.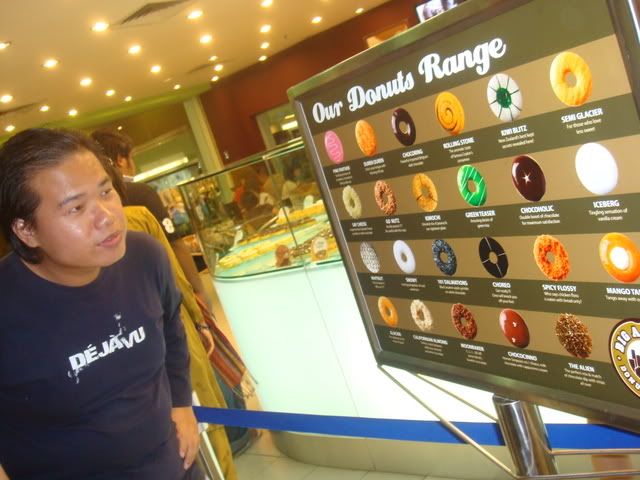 So much choices, the demon lord is spellbound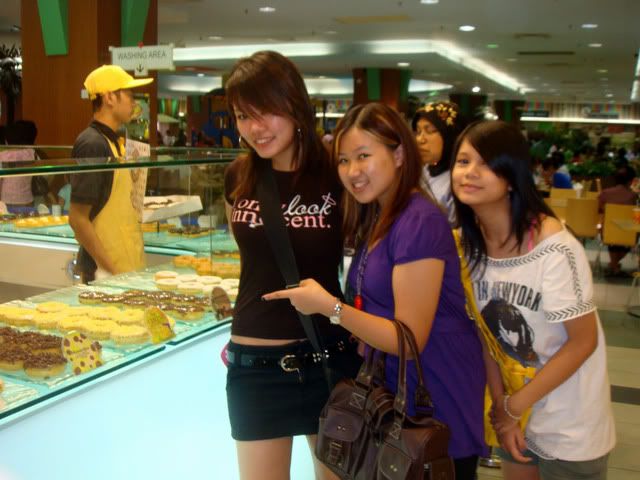 Fat or not fat, let's PIG OUT!!
Don't care
Don't care
Don't care
Don't care
Don't care
We couldn't resist. Behold the box of half-a-dozen donuts, Benjie's treat for all of us =)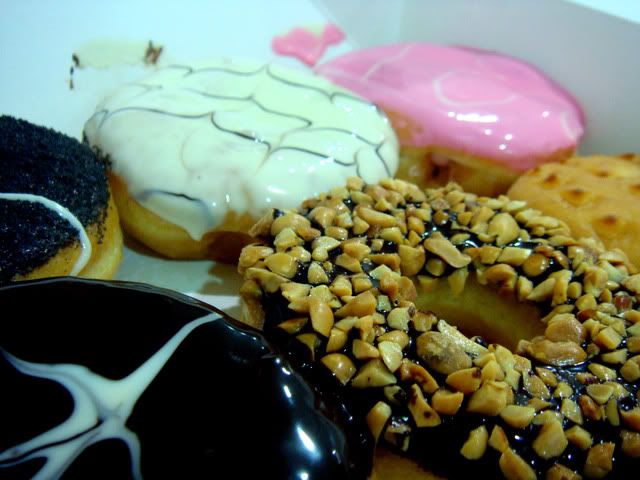 You are also permitted to drool at this point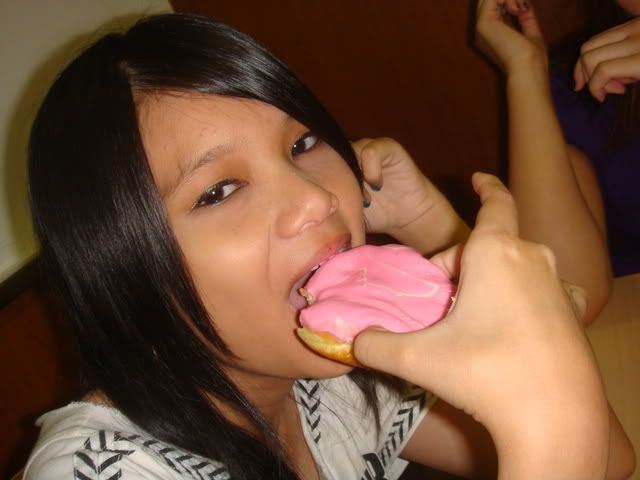 Benjie had his durianspiky&ugly donut. It's so fugly that it has a horn.. and cream spilling out. LOL. It's too ugly to be taken a picture of XP

Behold the power of the strangling donut

Behold the power of the half-a-choreo
(chocolate oreo)
We chatted again till it was time to say goodbye!
*hugs* peepol!
You guys were amazing.
End of this month, Benjica's destination: Kay-Elle!
Watch out!