It's Independence Day!
Without Malaya and Sabah achieving independence 55 years ago, MALAYSIA (the joint-force of 3 independent countries – Malaya, Sabah & Sarawak) may not have even been born.
Let's wave our flag – the Jalur Gemilang – proudly with other Malaysians and yell "MERDEKA!!!"
I may not have done anything to usher in Merdeka due to workload but the blazing love for my country still ignites on this historical, national day.
This year, I was chilling in my house on the highest floor shouting MERDEKA 7 times while watching blasting fireworks illuminating the sky simultaneously in 13 different spots.

Lucky for me, my penthouse has a gorgeous aerial view of the suburbs, parts of the city & everything!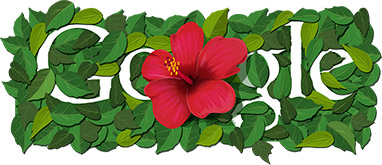 Check out Google's doodle today!
It's our national flower – the hibiscus – as a logo
As the year passes, I have begun to learn more and more about my country every day.
One of my favorite things to do this year has most definitely been playing host to a slew of Aussie friends of mine who chose Malaysia as a holiday destination. So proud!
My lunch : Nasi Tomato & Ayam Masak Merah (Malay),

Tumeric Cabbage & Papadam (Indian), Steamed Garlic Pumpkin (Chinese)
This #merdeka55 , I am thankful for the abundant & culturally diverse food that come in abundance here in Malaysia.
I love my country; tanah tumpah darahku!