Good news to share!
I just found out that my fellow students of KDU University College bagged themselves several outstanding awards at the Cambridge Learner Awards 2012.
Being an honour-roll student, an award recipient and a KDU University-College graduate (class of 2009) myself, I can't express how proud I am of my juniors!
I'd like to congratulate these kids & their excellent academic success:
KDU University College's Best Overall Student, Jolyn Tan Lay Shian (Arts)
She is a JPA-sponsored student, who garnered two awards in the June 2012 examinations, winning the Top in the World award for Accounting (A-Level) as well as winning the First Place in Malaysia – Best Across 3 A-Level Subjects award. 
After graduating from KDU, Jolyn is currently pursuing her Degree in Accounting and Finance at the University of Warwick, Coventry
KDU's honour roll student Wong Jian Eu
He won the Outstanding Cambridge Learner Award, being the Top in Malaysia for History (A-Level). 
Upon graduation, he is now living his dreams after being accepted to read History at the University of Oxford.
KDU's honour roll students Yvonne Ng Ee Lyn, a JPA sponsored student

& Song Cai Li, a PETRONAS sponsored student
They both won the Outstanding Cambridge Learner Awards, being the Top in the World for Mathematics (A-Level). 
Fun facts
The A-Level programme at KDU University College is internationally recognised as the gateway to degree courses in various fields. (I can definitely vouch for that, as KDU was my gateway to a degree course in Monash University!)
KDU has long maintained an impressive track record of a high percentage of  its students scoring straight A's, since 1983.

The most recent June 2012 Examination Session saw 40% of students scoring straight A's in the Advanced Subsidiary exam.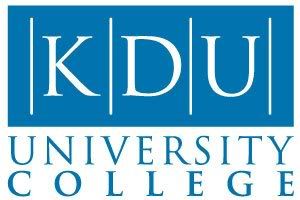 For more information on the programmes and activities happening in KDU University College,
call 03-77288123 / 03 7953 6688 or log on to their official website at www.kdu.edu.my.

My heartiest congratulations goes out to the four outstanding achievers!
Continue to make KDU University College proud… and may the legacy of KDU achievers live on!