Hark! Who goes there!?
A strange electromagnetic force must've swept through my residence because now there's…
Two of me.
I kid.
Was just playing around with a new photo editing app and realized it gave me this effect.
Pretty nifty, ey? I'll keep making better ones in due time!
My last seven days kept me rather occupied. With New Year's Eve parties, New Year's Day celebrations, running errands, heading out and about, blogging and so much more.
Before that, a shout out goes to my buddy Tammy, for turning a year older on the 1st of January!
Two kittehs!
Your birthday cake is still in my fridge
Happy Birthday gurlie! xoxo
For her birthday, she celebrated it with a movie treat – Les Miserables, the musical!
I've always wanted to read the book first but looks like it'll have to be the other way around now.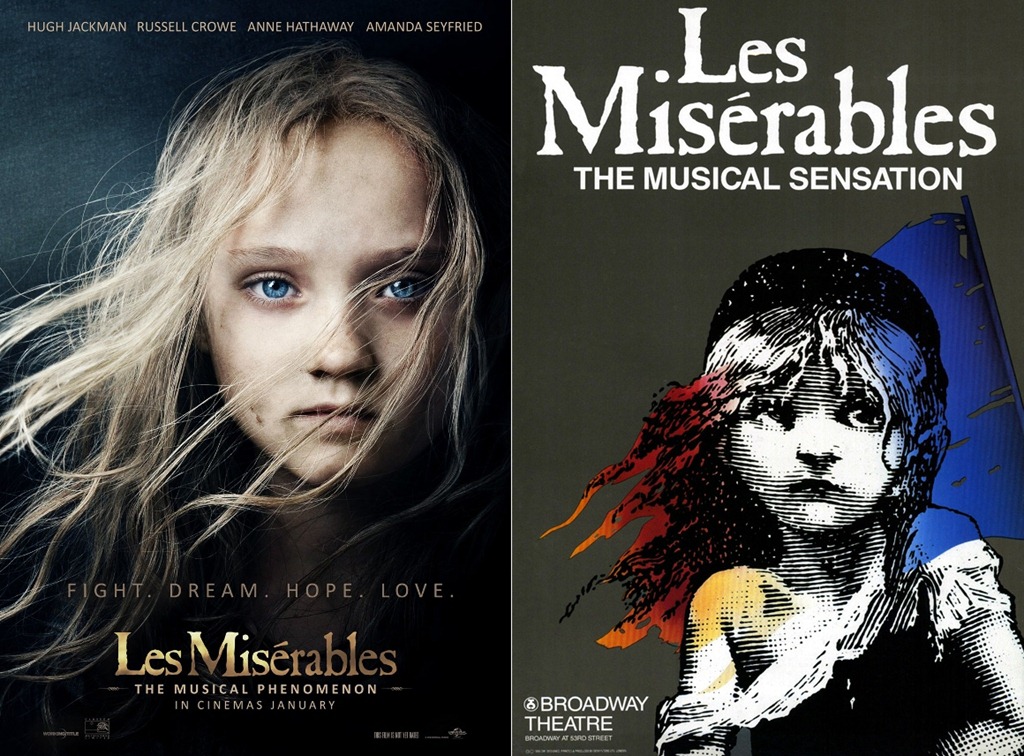 Luckily, Konzy has that novel so I'm just going to borrow it from him!
Loving the movie to bits!
Apart from reducing me to tears at the end of the three hour showtime, I walked out of the cinema hall feeling touched and inspired by its very poignant scenes!
Immediately after the show, I found myself talking to others in a sing-song voice and singing out my responses whenever someone talked to me – leaving them raising their eyebrows in bewilderment. LOL
Musicals, in particular, tend to have that effect on me. The bulk of Konzy and I's interaction throughout the day consisted of lyrical and melodious conversations as well as dramatic hand gestures.
I kid you not.
It started to get really funny at some point – until we ran out of lyrics and the effect, gradually wore off.
By the lake in KLCC park
We decided to adjourn outside; towards KLCC park where it was hot and sunny.
Wouldn't want to waste a lovely weather like this, yes?
Lunch was at Chinoz on the Park.
His: Pappardelle Meatballs
Hers: Caesar Salad with Smoked Salmon
It was decently tasty, but commanding such a hefty price for such a simple fare?
That's city living for you, methinks.
We were at the Petronas Twin-Towers KLCC after all.
Just a cute photo of us on the escalator. 'Nuff said
We were fooling around, talking about everything under the sun as usual and he dared me to fist myself.
Now, now, hold your horses and don't let your thoughts wander off too quickly!
This is his attempt at fisting himself which I found frightfully amusing
I wasn't going to do it anyway, but Konzy showed me that it was humanly possible LOL
Over the next few days I was really caught up configuring, setting-up & syncing my brand new, shiny toys.
My new laptop runs on the new Windows 8! Geez, I felt so computer illiterate when I first laid hands on it.
My new 15.6" ASUS laptop (where I'll be working most of my writing on)
& SAMSUNG Galaxy S tablet (as my PDA/organizer/planner)
This baby has such high-tech fluidity, impressive user interface, works with different commands, new features, new settings, a new Microsoft Windows AppStore where we can download apps too!

Plus, it has a dual OS (Operating System) where I can choose to switch in between Windows 8 and Windows RT whenever I feel like it.

Oh, sweet, sweet, technology.
Dinner was at another one of my all-time fave restaurants – Food Foundry @ Section 17, Petaling Jaya
His : Wild Mushroom Soup and a Club Sandwich
Hers: Chunky Tomato Soup and Prawn & Eggplant Spaghetti
Regardless of where I live, I will never fail to pop in every so often just to buy my favourite Mille Crepe cake. So the Vanilla Mille Crepe cake you see above, was of course, mine
It's just one of the things I can't – forgive me – share. Really
****
Something triggered my motivation and my moods were clearly elevated when I was told that I was featured in the media again.
No, not in a cinema ad nor a billboard this time, but in a newspaper and a magazine :
In Kwong Wah Yit Poh press (a Chinese newspaper)
In The Opinion (a monthly magazine pull-out of The STAR Newspaper)
With me, it is no surprise. My seven days also included, the imperative gym sessions!
Ran 3.15 miles in 35 minutes and the usual weight-lifts & floor workouts
The next morning was a very early start for me – for a change!
Who wakes up early on a Sunday morning anyway?
Being the night owls we are, it was a total spur of the moment.
But I soon realized that I actually liked waking up at daybreak! Konzy and I then headed out for a very hearty yet healthy breakfast at 8 o'clock in the morning.
To one of my fave food spots in Bangsar, Antipodean Cafe
which serves New Zealand & Australian coffee roasters & cafe cuisine
For him : Big Breakfast with hash browns, sausages, a fluffy omelette, grilled tomatoes, sauteed mushrooms and a slice of wholemeal bread.
For her : Scrambled eggs with smoked salmon, radicchio lettuce, cherry tomatoes, a slice of wholemeal bread, sauteed mushrooms, grilled tomatoes and a piping hot glass of skinny latte.
I've said this over and over again, but Antipodean Cafe is certainly one worth recommending several times!
(You know, people forget…)
I love this place so much that I even celebrated my last birthday here!
We even managed to have a quick chat with Kiwi-born Alun Evans, the owner of Antipodean Cafe.
****
Throughout this week, I've also been consciously switching from radio channel to radio channel lately, departing from the usual, repetitive trashy tunes that they call contemporary mainstream pop.
HOW ON EARTH DID lil miss annoyingly-in-your-face Nicki Minaj, Flo-Rida who is apparently a pro at teaching girls how to "blow" his "whistle", a close-to-30-year-old singing bubble gum pop hoping for someone whom she just met to call her, superficial outlook to life of a materialistic "Primadonna Girl", and yes, let's not forget whiny, spirals of despair from Adele, permeate the airways?
Really. It's a million dollar question.

Come to think of it, it might be the aimless commercialization and lack of substance in today's "music" that has put talented, real musicians and independent artistes to shame.

Yup, what's new? It's all about the $$$.
Which is why I'm sharing five of my favourite hits from the 80's which I happened to come across during my radio channel surfing AWAY from the likes of contemporary – often unoriginal -mainstream pop music.
httpv://www.youtube.com/watch?v=FqTkxFJHrNw
Christopher Cross – Best That You Can Do
httpv://www.youtube.com/watch?v=nsdj9NRzqC4
Starship – We Built This City
httpv://www.youtube.com/watch?v=vFPajU-d-Ek
Belinda Carlisle Heaven is a Place on Earth
httpv://www.youtube.com/watch?v=lDK9QqIzhwk
Bon Jovi – Livin' on a Prayer
httpv://www.youtube.com/watch?v=dQw4w9WgXcQ
Rick Astley – Never Gonna Give You Up
Like it?
I do. Despite mocking "oldies" music as a rambunctious teenager back in the early 2000s, I now I finally understand how mom, dad, my uncles, aunts and late grandfather came to love and appreciate the music of their era, even till today.
As for me, I wouldn't be proud to say I came from the Justin Bieber-Adele-Nicki Minaj era.
I don't rant very often on my blog, but when I do… it's about the garbage they call music now.
I ended my weekend by sending my third round of recycling materials/recyclables ever since I embarked on a lil personal project of being more pro-environmentalist and taking the green initiative whenever possible.

To reduce, reuse and recycle!
I carried four boxes of recyclables – paper & cardboard, plastic, metal and glass.
They took everything BUT ACCEPTED NOT EVEN A SHARD OF MY GLASSWARE!
HEY! If you didn't already know, glass IS recyclable too!
I was visibly upset but still wasn't given an answer as to why glass is unpopular in recycling efforts
On another note, it's already the second week of 2013!

Schedule's looking pretty busy already.
Have you been keeping to your New Year's Resolutions so far?
If not, it's not too late! Endeavour to succeed in them throughout the next 51 weeks!
Much love,
Jessicat
———————————————————————————————————————————————–
The Sunday Times is a weekly series; published every Sunday night to recap the highlights of my week, capture what piques my interest and to briefly highlight my recommendations for to-go and to-eat places!

Some of the photos in this edition are posted instantly on my Instagram, Twitter, Tumblr & Facebook
Do follow to get instant updates and pretty photos of the sights & sounds all around me!