Wanna know some beauty secrets used by British royalty? You never would have guessed.
A brand new skincare line was ready to hit the shelves of Malaysia – NIVEA's Pure & Natural range!
Nadia and I at the entrance
The theme was blue and white, held at a distinctively British garden-concept restaurant: Delicious Cafe.
It was a private function where a sneak preview of NIVEA's latest Pure & Natural line of products would be launched over a delightful fare of afternoon tea.
Delicious Cafe was turned into an enclave of various shades of blue with a hint of white.
Bright turquoise bows were tied neatly behind every garden chair and each table was seen decorated with petals and garlands of daisies and gerbera blossoms!
Cobalt blue miniature NIVEA decor hung from branches that sprouted from the pure white pillars of the restaurant.
I spotted the display of the products in question and hopped over to browse them for myself
Here's a closer look at NIVEA's new Pure & Natural range!
The launch of NIVEA's new line also saw a hot seat session with the top guns of NIVEA & Guardian pharmacy, as well as a step-by-step skincare demonstration of the new products
Nadia Heng (Miss Malaysia 2010) explaining more about each product before she began the demonstration
This live presentation allowed guests to fully comprehend the benefits and all there is to know about using NIVEA's new Pure & Natural skincare range as well as how to use them.
After all, wouldn't you like to be well-educated about a product before you slather it all over your face?
Step 1 : NIVEA Pure & Natural Cleansing Lotion
It was applied on a cotton pad and wiped gently on the skin of her face.
This cleansing lotion gently removes make-up and dirt effectively!
Step 2 : NIVEA Pure & Natural Cleansing Toner
It was dabbed gently all over her face with bare hands.
This toner helps in tightening pores and revitalize skin.
Step 3 : NIVEA Pure & Natural Moisturizing Day Cream
The moisturizer was warmed between her fingers and gently spread and massaged upwards onto the face.
It ensures skin stays supple! Thin skin is also repaired with intense 24-hour moisture and freshness.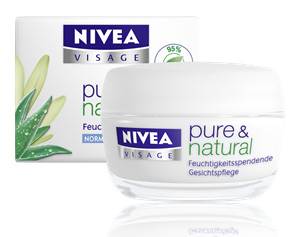 This rich moisturizer is the star product of NIVEA's new Pure & Natural range!
Nadia explaining the purities and goodness of this star product
I've some really interesting news about NIVEA's new moisturizer to share – a royalty's beauty secret!
Recognize the glamorous lady on the left?
The Duchess of Cambridge, Princess Kate Middleton, was recently spotted buying NIVEA's new Moisturizing Day Cream at the Boots along Kings Road in London!
Amazing how she strikes a balance between designer luxury products and humble high street products for the masses
Good on ya, Kate! If it is fit for a princess' beauty regime, it is certainly fit for ours
The beautiful models showcasing the complete set of NIVEA's new Pure & Natural range
The whole collection not only includes facial skincare, but also body lotion, cleansing wipes and deodorant!
All the products from the Pure & Natural range are free from preservatives and contains 95% natural origins such as Argan Oil, Aloe Vera & Chamomile
MC Daphne Iking holding a Question & Answer session
We were then captivated with a fashion show by designer Dominique Chan's Princess collection of dresses and evening wear. How apt for the girly and princess theme of the event!
Ready for some ravishing floral & elegant fashion designs?
The fashion show was held simultaneously when the afternoon tea-buffet was served.
Perfect timing! I was looking forward to it as I was beginning to feel slightly hungry by the time it did
I've always been a fan of Delicious light afternoon tea and desserts!
Bite-sized yet mouthwatering, these little goodies certainly leaves you wanting more!
Us guests were served a delectable assortment of desserts, pastries and finger food.
Tiramisu, macarons, cheesecakes, tapas food, miniature burgers, miniature pies and quiches
With my fellow girlies, Ellie and Rosalyn at the event
Another round of Dominique Chan's Princess collection was ready to be catwalked down the BLUE carpet.
This time round, the models not only paraded the dresses.
The six stunning ladies were each holding up one product from NIVEA's Pure & Natural range
I was totally smitten by their elegant, flowy and luxurious gowns which to me, embodied so much beauty and grace of the female figure. It was almost as if I was watching real princesses walk by!
Here are some close-ups I shot of the models once again.. this time, with the individual products.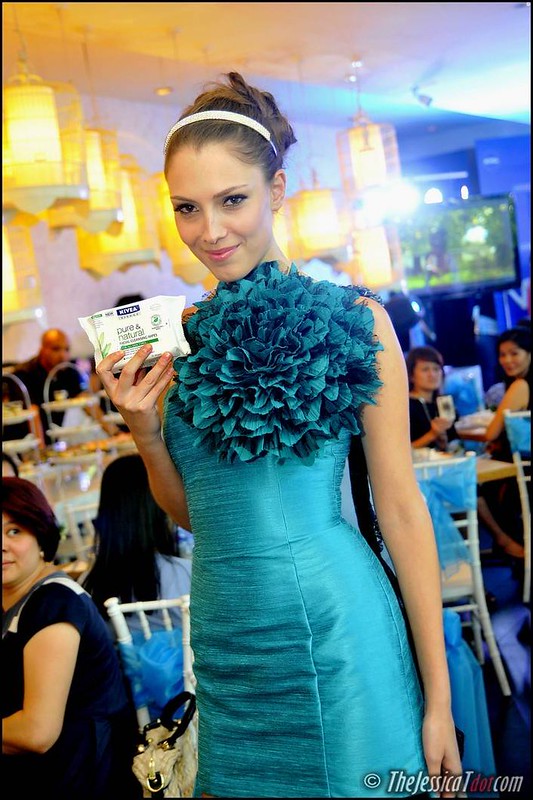 NIVEA's Pure & Natural Cleansing Wipes
NIVEA's Pure & Natural Cleansing Lotion
NIVEA's Pure & Natural Cleansing Toner
NIVEA's Pure & Natural Moisturizing Day Cream
NIVEA's Pure & Natural Body Lotion
NIVEA's Pure & Natural Deodorant Roll-On
I managed to take a photo with the designer of the entire Princess collection!
Dominique Chan and I
We were also entertained by a talented string ensemble quartet as evening began to approach
I enjoyed my afternoon of fashion, beauty and delicious afternoon tea-buffet today. Thanks NIVEA!
To brighten my day even further, I was also given a bag of the full range of products in question
At the photowall just before I left the venue
Naturally, I couldn't wait to get home to try out all the products from NIVEA's Pure & Natural range!
Thanks to the demonstration earlier, I replicated the exact steps while using my new goodies
I loved them all! They were really rich and I applied a generous amount of them all over my face and body, leaving it smelling so good and feeling so moisturized
Despite loving the entire collection, I had three specific favorites – the Moisturizing Day Cream, the Body Lotion & the Deodorant Roll-On
Pretty sure I was feeling like a princess by the time I was done!