Hurrah! Finally found some time to spare to pen a personal diary here on this blog, lest it ends up turning into billboard this month.
Trying hard to keep a balanced ratio of branded content + personal lifestyle content here!
As a sequel to this blog post of The First Quarter (read that first!), here's The Next Quarter (April-May). 
My month of APRIL 2014 was mostly spent working my days away and hanging out with my buddies & family, attending events by night and turning up the party dial during the weekends.
Out and about with the sis.
On our coffee runs – yep, we're caffeine addicts!
Hung out with her mates at Coffea Coffee, Bangsar too.
Made some time for a catch up at Solaris Mont Kiara with bestieJoyce too.
Can you believe after all these years of being apart in different states and countries,
we ended up living on the same street!? What are the odds!
Found myself back in Ipoh to visit the family too – here's our dinner venue for the night.
The very regal mansion called STG Tea House & Cafe.
I took an immediate liking to its British colonial set-up.
A restaurant not only boasting its delightful interior,
but an excellent fusion of east & west cuisines.
I recall that the chocolate pudding was to die for. See the molten lava choc oozing out? 😀
Just had to share this – our adorable Penny watching TV with us.
I guess Fear Factor has got her hooked!
Speaking of pets, here's babyChivas chilling by the dining room in my old crib.
I used to live in Perdana View Condonminium, Damansara Perdana!
Buddy Ros Marie and her mates came to visit from Cambodia.
Brought them around KL city and to Antipodean in Tun Razak for dinner!
 Been awhile, babe! x
 Attended meetings with my Adrows investment crew.
This investment has earned me thousands of USD so far!
Not going to write about it for now (I would when I find the time to)
but you can ask me personally. 😉

 Adjourned to the Korean Cafe Bene in Solaris Mont Kiara for desserts right after!
Letting my hair down during the weekend, this calls for Zouk nights!
With my Maldivian ladies, Mai & Hiba! Miss you girls x
What's with girls and bathroom selfies? I don't know either 😀 😀 Teehee.
 Girls just wanna have fun!
More Zouk nights! With my girl Eileen.
Here's the interesting bit…
As I was seeing someone else at the time, little did I know I would meet the love of my life right on the dance floor, beside the thumping bass speakers. There he was, on 6th April 2014, we met, spoke briefly and raved together for a few minutes.
I don't think we even said goodbye.
And that was it. I didn't even remember his name… nor he, mine.
He was just another cutie on the dance floor to me.
 One of those lunchtime outings with my  former colleagues of Kraken Interactive!
 We headed to Tapperz Cafe. I just have to say – we were slightly disappointed.
Nothing to shout about, IMHO. Just your average go-to place for a quick lunch.
One of our other usual spots for lunch nearby would be…
Oh my goodness I don't remember this restaurant's name.
But I recall the owner (and her staff!) being very hospitable and gracious to us!
 Also standard lunch fare of western food, in my opinion.
Speaking of work life, I also headed for an interview with a few MNC organizations which had me head-hunted. Putting my interview-I'm-so-corporate look on. Hi!
Thanks to TGV Cinemas, I was invited to the launch of their luxury concept cinema – INDULGE.
It has its own exclusive dining area, queue/line, waiting lounge and fine dining meals!
Find out more about it at TGV.com.my
 Hello!
At the end of April, I got invited to Mysterious Asia's
Journey to the Sound rave party at Platinum 21.
Blogged about it here: Mysterious Asia – Journey to the Sound 2014
The rave was fabulous! 
Just like every single rave, I danced my socks off and was euphorically headbanging, jumping and tripping out.
Wait.. what? What could ever be more coincidental??
Remember the cutie I met on the dance floor at Zouk? Fate brought us together again, by chance. We met again that very night.
Again, we spoke briefly, this time a little closer to a conversation than it was the first time.
He asked me for my number, I didn't oblige. But when I asked him for his instead, neither did he. And again, that was it. But this time, I remembered his name, at the very least.
What a suspense. Moving on…
We've come to the month of MAY 2014! Let's see what's in store for me…
 Yahoo!! Japanese buffet dinner at Jogoya Japanese Buffet, Starhill Gallery.
 My relatives came to visit, from the USA.
It was granduncle's birthday, so we decided to throw him a feast.
 Couzzie Kevin and his kid! Too adorable.
 Not sure what got into me, but when the weekend came, I joined buddy Mikey to Jogoya AGAIN.
Don't know how I stomached two rounds of Japanese buffet in less than a week.
The coconut really got me going….. nuts!
So did all the Japanese delights!
Obligatory group shot!
Maximized my long weekend and jet-set to my lil Penang island again.
These are the things that kept me occupied back home:
And then it's off to Penang again.
Say hi to mommy!
Celebrated Mother's Day with my 3 superwomen.
Blogged about it here – Mother's Day at Mariani's Italian Ristorante, Ipoh
I'm a friend of the forrest! Yep – never fail to go trekking & hiking in the woods.
Also, gym with lil bro Sim at the OFA gym just beside Queensbay Mall!
 Dragon shisha-time with buddy Paul!
 Hitting my favorite party zone, Soho Gastro at Precinct 10!
 It's always a swell partay in there with my fave peeps!
And then it's back in KL. High ho! High Ho! It's off to work we go!
 With my former colleague and fellow red head, Jane!
 Some days are just meant to wacky. Taking a break at my work desk!
 Was booked for an interview too, about my
blogging journey in Malaysia for the past decade.
Spent time with buddy Anis over lunch at The Apartment, The Curve.
Girl talk is necessary for the soul.
 Went shopping for beanies, but unfortunately…
It's an uphill struggled to find one that suits me!
I almost bought this cannabis sweater. Pretty cool, eh! Really colourful too.
Became a zombie at Zombie Run 2014!
Blogged about it here – Zombie Run Malaysia
Managed to squeeze some time in to do a thorough spring cleaning for my bedroom.
Ready? 1.. 2. 3…
POOF! 
Yep, that's more like it.
Woohoo! A neat room makes for a clear and happy mind!
It was so neat, tidy and cosy in here that baby Chivas decided to get in on all the fun too!
 Gymtime every other evening, as usual.
Shot taken at Body Pump class!
 And of course, what is fitness without nutrition?
 Grocery day! Can't live without whole foods.
Got invited to Kuala Lumpur Golf & Country Club's launch of their new healthy menu!
Blogged about it here – healthy dining at KLGCC
The month of May had also became quite an endearing one for me.
Funny how day by day of endless chats… I started falling in love with a special someone. 
He may not realize it, but all the thoughtful & sweet little things he did for me, all the care he showered upon me, the tender-loving moments, the late-night conversations, and all the laughter we shared got me stumbling, tumbling, tripping and head over heels in love with him.
 Yup. It was that boy from the dancefloor all along.
The very same boy who is still steadfast by my side today.
Blogged about Prodigy KL's Media Launch – here
Funny how fate brought us together yet again for the 3rd time, this time on Instagram!
I would tell you our special & funny little love story, but that's another story for another time. 🙂 Promise I'll dedicate a blog post to us, when we hit our (official) first year anniversary together.
I use the term 'official' very loosely, as there isn't exactly an 'official' day we decided to be exclusive.
This time last year, God decided to bless me with a perfect boyfriend as amazing as he is. Couldn't be more thankful!
This time last year, we were just seeing each other and getting to know one another.
I smile to myself thinking about it, when I thought he'd be just another summer fling.
Word.
Our first (or second?) date.
Moo Cow frozen yoghurt became our thing.
One of those days we walked the streets of Kuala Lumpur aimlessly,
just knowing that we found solace in each other's presence.
One of those days we snuck out of office during
break time just to spend some time together over lunch!
 Looks like chivalry isn't dead!
And he still does this for me, a year later. 🙂 I feel really blessed.
That's enough a story for now.
Hey hey hey and it's time for the JUNE 2014 chronicles!
How time flies.
 With all my fun-loving former colleagues of Kraken Interactive & Clicks Communication at
A Pie Thing! A pie cafe venture by one of my ex-colleagues, Irene & her mates.
 I'm yet to do a full-blown feature on this joint
but their savoury and sweet pies are to die for!
 Also within the vicinity of my former office, was Miraku Japanese Restaurant.
Sometimes, we'd come for lunch here. Food is good and they have private rooms for private dinings so  that's noteworthy!
JUNE 2014 – FIFA SEASON HAS COME UPON US!
Look, mom! I'm on the newspaper again! 😀
 Was rooting for Germany all along – and they won!! Go Deutschland!
Got invited to the premiere screening of Transformers 4: Age of Extinction in TGV Cinemas thanks to AllDay Media!
Definitely my favorite scene – Optimus Prime riding Grimlock in his dinosaur mode.
Speaking of movie time, couzzie Maddy and I caught up for some movies.
She's a real movie buff and collects DVDs of underground films too!
Hi there.
She brought me to her fave cafe in Bangsar, Alexis Bistro!
The Strawberry Pavlova is a best-seller here. Such a melt-in-your-mouth delight.
I'm a huge fan of Arabic food so naturally I was overjoyed when it opened at The Curve!
Sinful chocolatey goodness at Mad About Coco in Publika, Dutamas!
It's official. I can never have enough chocolate.
I also can never have enough of IKEA!
Just a little styleshot.
And another one 😛
 Joined buddy Haze for Crossfit at Pushmore Fitness Center!
 Safe to say it was my first time doing a different training regime
– crossfit is really different from regular workouts!
Much higher intensity; and interesting terms like WOD and box.
I'd say working out at a crossfit gym is pretty cool experience.
Back at my own gym training with my own routines.
 Tricep Pulldowns
 Overhead Tricep Extension
 Enough of man-time working out like a beast at the gym;
time to look feminine for a night out! 😛
 With lil sis Victoria at our fave playground – Zouk Club KL.
With Hiba! Come back from Maldives, quick! 😀
 It was suuuuuper packed that night.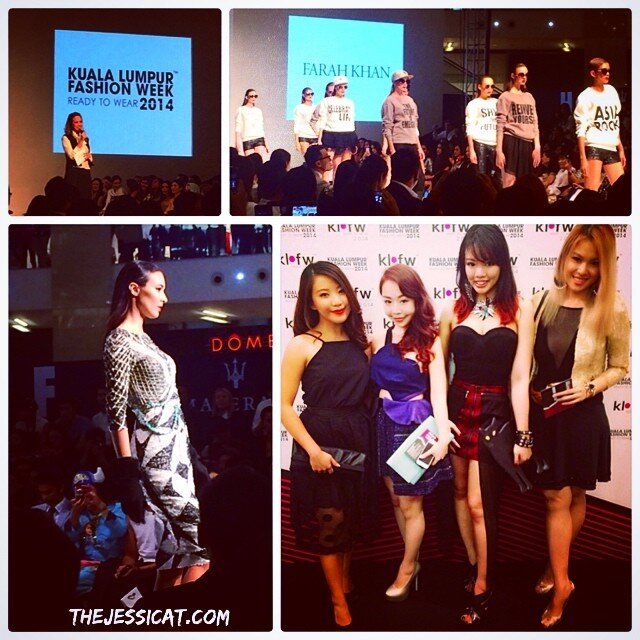 Got invited to Kuala Lumpur Fashion Week 2014 featuring Farah Khan's masterpieces!
 Turned up our party dial. It's hard to find my match – one that can party as hard as me.
But I'm glad I did.
 Date nights out! No, I don't know why my silly boo put the plastic cover on my head either 😛
What happened to I-don't-wanna-have-a-boyfriend and having no strings attached?
Looking back, I'm glad he made me his girl.
Wrote this blogpost (and a poem!) about my dilemma – here

Shall I bore you with more selfies of us?
 Okay, last one. I promise! 😛
And that, ladies and gents, was how my 2nd quarter of 2014 went.
Full of quality time spent with my nearest and dearest, and definitely blessed with love, as I opened my heart yet again.
Reminiscing last year in this blog post really tripped my nostalgic switch. So much feels in this diary! 
Stay tuned for the 3rd quarter of 2014! Yup – it's my birthday month! 😀
The day I got hit by the mid-twenties bug. No, not anywhere near the mid-life crisis yet but hey….