On Valentine's Day, my doorbell rang and the Citylink delivery man showed up at my doorstep with a huge parcel.
"What? No way!," I thought to myself. Theboyfriend couldn't possibly have any more surprises up his sleeve after a super surprise the night before, could he? After all, he was still fast asleep at noon when the parcel came.
 Turned out, it was a bicycle sponsored by the good folks of Bojio & Garion Bikes!
I excitedly dragged the huge box in (yes it was quite heavy!) before estimating its weight by trying to do bicep curls with it LOL. 
My first impression of it – boxed – was that it was compact enough to fit my car boot and most likely, slightly under 15KG.
Excitedly woke moo up and together, we ripped the box apart to unwrap, unfold and unveil our new bike! 
Kinda like this picture, as I can somewhat see the definition of my delts & triceps hehe.
Motivation to work harder at it! 
I asked the sis who was watching us unwrap it, if she could cycle, and she answered smugly, "Duh of course I can, everyone can cycle lah." 
I hung my head in embarrassment and looked at her pitifully, followed by a, "WHAT? YOU MEAN YOU CAN'T??" 
Yes, I absolutely cannot. For the very first time I cycled back in Ipoh, I was chased by a dog and fell off the bike resulting in deep, multiple scratches.
The second time I cycled was in Cambodia, and I got hit by a truck whilst on my way to Angkor Wat and ruined my holiday.
And that was the last time I ever I cycled a bicycle.
Call it paranoia, but I affirm that I can no longer cycle a bicycle confidently anymore.
Almost toppled the bike over.
Candid shot that Moo took of me when I was freaking out.
I can, I will, I must. Baby steps – easy does it!
Picking up speed, balance and confidence all over again.
So thanks to Bojio and Garion Bikes, this is my third time attempting to cycle a bicycle again.
Thank you for giving me the incentive to face my fears! 
Also, major credits to the skilful boyfie of mine (yes, he's doing the wheelie!),
who patiently taught me how to cycle again and rebuilt my confidence. Maybe i'll even complement Fitology in my workout.
Hey hey hey! Look at me go! Slowly but surely 😀
We had so much fun that Valentines outdoor date,
so much so that we've decided to make cycling a weekend affair! 
Want to own a bike like mine? Read on…
Time to win yourself an awesome foldable bicycle by Garion Bikes, as Bojio is running a pretty cool contest!
It's time to #JomReunion at all your favorite cafes and win yourself a bike worth RM699 while you're at it!
This initiative aims to encourage people to socialize and see each other face-to-face beyond the screen of their smartphones.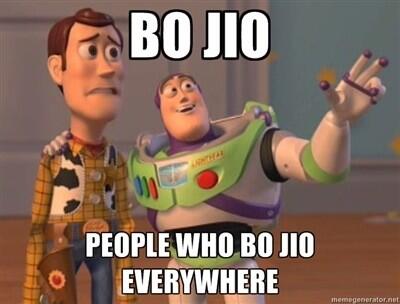 Yup, specifically for these people. 😛
From 12th Feb – 5th March:
ONLY 6 Lucky winners will receive a Garion Folding Bicycle!
Bojio's #jomreunion is happy to invite everyone to come and join in the mission to make everyone meet & interact outside the online world – attempting to change back how people socialize, appreciate the people around them.
So take this long weekend break and have fun jio-ing your friends out this Chinese New Year #jomreunion. 
In short, this is how you do it:
Step 1 – LIKE Bojio's Facebook page, Instagram page & Twitter page
Step 2 – Take a group SELFIE with your mates at the participating outlets/cafes
Step 3 – Post it up, TAG the outlet and HASHTAG it with #jomreunion
Here's the list of participating outlets. Go check 'em out and take your selfies there!
And voila! You'll be riding home a Garion Bike folding bicycle! 
The kick-ass Garion G2017-BC
It looks like this when it is all folded up.
Here are some specs for the techy bike-geeks out there:
AVAILABLE COLOURS!
Mine is the adorable Black + Yellow one! Bumblebee will be proud.
It's really easy to join, right? And the prize is irresistible! 
You can take selfies as easily as this and don't forget the #jomreunion hashtag.
Contest Terms & Conditions here:
Lastly, I'd like to share a very important public service announcement:
Whenever people jio you for hangouts, don't disappoint them – MAKE SURE YOU TURN UP!
—————————————————————————————
For more on Bojio's contest & their awesome sponsor, Garion, stay updated with them!