Last week, I managed to catch Fast & Furious 6 with my buddies.
I could remember munching on popcorn furiously during death-defying scenes and laughing myself silly at witty, snark remarks often made. Here are my thoughts on the movie that I thought I'd share.
Cast-wise, I was stoked to watch Vin Diesel and Dwane Johnson a.k.a The Rock perform together.
Heck, I've been a fan of these two manly studs for as long as I can remember!
I liked how Diesel's overtly masculine character was balanced by several romatically-inclined and "touching" love scenes with his female co-star – to which I must admit, had a body to die for. Gal Gadot who plays Giselle was such a pretty face that I wondered what a picture-perfect, delicate lass like her was doing in this rough and tough action-packed movie.
Oh and… Ludacris was cast as well!
The villains were pretty bad-ass. Luke Evans who plays Shaw was the epitome of it all.
Heist-gang leader, Shaw
Diesel with Michelle Rodriguez who plays Letty
Dwayne Johnson aka The Rock
Politically? Fast 6 has got itself covered.
Typically, the Whites dominated the movie followed by an almost-equal balance of Asians, Latinos and Africans.
Inter-racial romatic relationships spawned in this instalment as well.
Filming locations were also superb!
We were taken on a visual adventure to Canary Islands, Spain, London, Scotland, Hong Kong, Los Angeles and more. I had fun trying to identify which country they were moving here and there too.
The London Bridge in the background
The verdict?
Just like its prequels and sequels, Fast and Furious 6 was superbly action-packed with explosive, fighting, speeding and nail-biting scenes. Think planes on fire, race-cars catapulting over road dividers & bridges, army tanks speeding down the highway crushing oncoming vehicles to nothing but metal scrap, firing of bullet-to-the-chest shots, dangling from speeding cars and more.
Most of the scenes will leave you holding my breath and gripping the edge of your seat.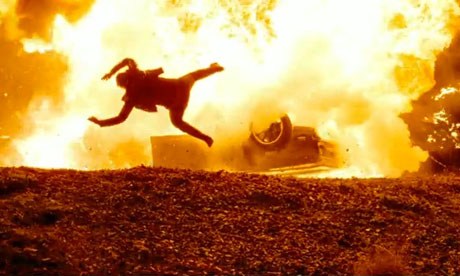 Despite boasting such heart-stopping scenes, this movie had its fair share of poignant and rib-tickling parts to dissolve the adrenalin rush it shot upon us.
There were several touching, moral lessons revolving around themes of family, friendship, loyalty and teamwork embedded into the storyline. Fast and Furious 6 also delivered excellent punch-lines and funny one-liners so frequently; bound to leave one shedding tears of laughter for.
If you're one to fancy girls oozing with sexiness (legit, brutal girl fights included!), guns and fast cars, this might be just the movie for you. However, be prepared to leave your logic outside the cinema hall as a couple of plot holes and scenes hardly made any sense, neither were they scientifically nor logically accurate.
LOLOLOLOL
Before I go, here's the trailer get your speed on if you haven't watched it!
Like it? I watched the trailer four times before watching the actual movie LOL
I was THAT excited for the show.
Don't forget to catch the movie in cinemas!
You'll love it just as much as I do