Alrightey! Like I promised in this entry , the 2nd part of my Hard Rock Hotel Penang coverage is now here! In that entry, I only blogged about the exterior of this prestigious rock n' roll hotel.
So gentlemen (and ladies) ignite your Harley Davidson superbike engines and brace yourself for the interior & the grand entrance of Hard Rock Hotel and Hard Rock Cafe Penang.
The superbike display in the Grand Ballroom

Upon driving around the vicinity located in Batu Fehringgi, Penang, it's hard not to notice the elongated building of Hard Rock Hotel – which, in my opinion, reminds me of a piano keyboard.

One of the first few people to ecstatically grab a photo with it would obviously be this person below.
I don't know her – do you?
😛 Take a closer look at the guitar statue btw!
Bearing the words of Hard Rock Hotel,
this franchise has already built a brand of its own
Fancy one of the boys from the classic rock n roll band the Beatles, greeting you upon your grand arrival.
Which band member is this by the way?
I tried Googling him but all of them look the same to me wtf. Someone help!
So yeah, when your standing right there admiring the bronze statue of all 4 members of the Beatles,
something else will be flashing above you in a myriad of colors! Check out their crystal chandelier which changes colors every 10 seconds or so..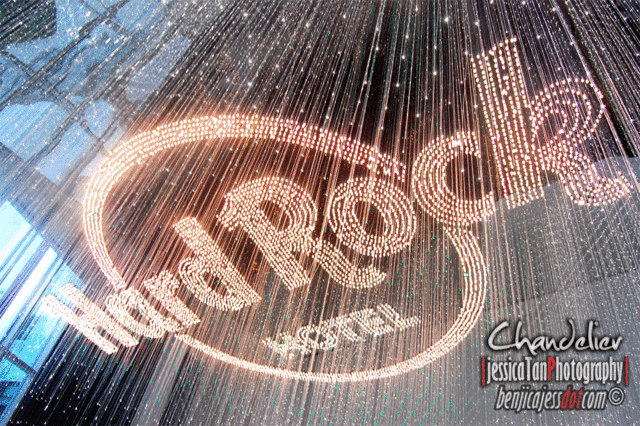 Made it into an animation so you catch my drift
Pretty right?
I stood there for 5 whole minutes just watching
the chromatic beauty of these colors flowing down from their respective crystal 'pixels' right to the bottom to what everyone was admiring at the lobby.
I especially liked the lobby. They had 100% authentic music oriented merchandise/costumes on a glass display all around. Some from Elton John, Bon Jovi, Motley Crue and the list goes on! Some even from those artistes dating all the waaaaay back to my parents' era!
Anyhoozers, the next thing I did was to explore the Grand Ballroom. I liked how the entire building's exterior walls were made of glass. Totally reminds me of a greenhouse!

Finally,
love the Hard Rock tank top!
In my favorite colour and design too. Thanks! I had a wonderful time venturing the hotel.
And so should you
*grins*